Stop being basic! Offer your clients more than "just" one method of hair extensions.
Aug 17, 2021
There's some truth and a sense of ease when it comes to being basic! Offering one method of hair extensions to your clients makes things easy for you - you don't have to purchase more than one color ring, you can offer only one way of attachment, you feel confident offering this service because it's "quick & easy" and what you know! It's time to step out of your comfort zone. cause YA BASIC! Being a Master should be anything but...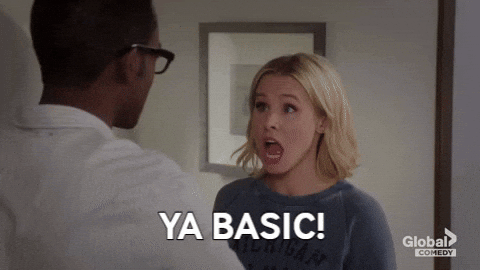 For example, if you're only offering tape hair extensions - then you're missing out on 90% of the clients who would benefit from a different method! Tape hair extensions are also "dated" - and to be 100% transparent, I only use them for bridal or editorial. They are quickly added and quickly removed. I teach many ways to cocktail tape hair extensions, customize them into individual pieces, and all sorts of jazz. They had a time and a place for me in my career. I just can't drink the Koolaid that one method of extensions will work for 100% of my clients. As a matter of fact, I know it can't! It's also proven that your clients WANT OPTIONS.
If I use one brand - then I am only offering one texture of hair extensions. How is this even a way to build your customer base? You'll end up with just one kind of customer avatar and that's not the way to secure a six-figure income.

The only "person" who benefits from you offering one brand is the company that is selling you hair extensions

.
On any given day at my salon, I am working with various color rings, textures, and methods. I'm listening to my client and her needs, plus I am touching her hair and navigating which part of the globe I'm going to pull from. Am I bringing in Indian hair that air dries with a wave, or am I working with Slavic hair that is lighter in texture and has so many varieties of blonde? OR am I pulling from Cambodia because my client loves to flat iron her hair and hates anything with a natural wave since she only wears her hair bone straight?!
If you want to be the best - then become a Master! Don't just "put extensions in". Take pride in your craft, up your game, and learn other methods and source from different companies! Give your clients the hair they've dreamed of, not just what you think will be a quick fix.
During the Masterclass, I detail some of the top hair extension companies in the US. Most on this list are supply houses that are owned by Stylists themselves and family-owned companies that have been importing hair for decades. And sure, I touch on a few large hair extension companies because I know that's what you're seeing on Instagram and Facebook but TRUST me when I say that a large portion of the companies that you are seeing on social media are all owned by one much larger company. It's truly fascinating how so many brands come from the same factories. The quality has started to become an issue and all sorts of other nerdy facts! I go over this in detail during our Live Mastermind in April.
Christina Jones is a true pioneer in the hair extensions industry investing the past twenty years carving an indelible mark, both as a creative business owner and as an International Educator. Christina Jones takes an independent approach, which is not tied to one specific vendor but rather a vendor list offering an overview of all processes, products, and techniques available. This approach enables the stylist to learn how to create a wide range of different looks on a variety of hair types while not locking into only one company/brand or method. Her "Tell All" Hair Extensions Training Program - is based on 15+ years of experience working with women who suffer from medical hair loss, or simply those that want more volume and length. These classes are developed to teach non-aggressive methods (no glue - no damage) of hair addition while also learning how to build a solid foundation for a successful business! Christina was awarded "Woman of the Year!", by the National Association of Professional Women. She also Volunteers with the Look Good Feel Better program hosting "Wigs & Headcoverings" zoom webinars for women who currently receive Cancer treatments.
#beadedrow
#beadedrowcertification
#hairextensionclass
#onlinehairextensionclass
#natrualbeadedrow
#handtiedweft
#haircourse
#hairextensionmastery
#hairexensionmasterclass
#hairextenionclassesnearme
#fusionhairextensionclas
#tapehairextensionclass
#coldfusion
#keratinextensionclass
Free Mini-Course! Master the art and business of the hair extension consultation in less than 15 minutes!
Download Now
Stay connected with news and updates!
Join our mailing list to receive the latest news and updates from our team.
Don't worry, your information will not be shared.
We hate SPAM. We will never sell your information, for any reason.